5 St Johns Road, Tunbridge Wells, Kent TN4 9TN
Location
This property is prominently located directly on St Johns Road (A26) a major route into the centre of Tunbridge Wells, in North West Kent. Immediately behind the property is Royal Wells Springs – a development by Berkeley Homes.
 Description
This is a former Nat West bank more recently having been converted and operated as a cycling themed café and retail / servicing outlet with ancillary offices. To the side of the building is a large car park for around 12 cars.
The building has undergone comprehensive improvements since the previous owner acquisition in 2013. From our historic measurements the building has the approximate net internal areas:
Ground –               1227 sq ft (114 sq m)
Basement –            689 sq ft (64 sq m)
First –                      614 sq ft (57 sq m)
Second –               398 sq ft (37 sq m)
Total Area –            2928 sq ft (272 sq m)
 Planning Permission
The proposal is to convert and extend the existing building, to form an office or retail area and 2 no. apartments  and build an interconnecting new block over 1st,2nd and 3rd floors, to create a further 6 no. apartments, retaining the existing parking at ground level. Ref: – 17/02720/FULL
This consent provides for the following accommodation:
Ground
Office / Retail area – 786 sq ft plus existing basement area – 689 sq ft.
First                   3 bed – 1335 sq ft (existing building with extension
2 bed. – 829 sq ft (new)
3 bed – 1313 sq ft (new)
Second             3 bed. – 1238 sq ft (existing building with extension)
2 bed. – 829 sq ft (new)
3 bed. – 1313 sq ft (new)
Third                2 bed. – 807 sq ft (new)
3 bed. – 1206 sq ft (new)
There are 8 car spaces for the apartments and 2 retained for the commercial element.
Alternative Proposals
Option A.– New build block in the car park for 9 units & retaining existing commercial building – as follows:-
Ground –                Parking
First – Third –        6 no. 2 beds –         807 sq ft – each
Fourth –                  2 no. 2 beds. –       646 & 689 sq ft
Fifth –                      1 no. 3 bed. –        904 sq ft
Total –                    9 apartments –       7081 sq ft
Plus
Existing Build (Commercial Use)
Existing Floor Area –                             2928 sq ft
Proposed Rear Extension –                  2561 sq ft
Total potential area –                          5489 sq ft
Option B – Part new build, part conversion & extension to provide a single commercial / office building: –
This proposal demonstrates the potential to create 11,500 sq ft of space, on a net internal basis whilst retaining 9 car spaces.
NB – The above proposals are subject to obtaining all the necessary consents.
Tenure
Freehold with vacant possession.
Guide Price
Offers are sought in excess of £1,600,000
Viewings
Strictly by appointment and accompanied as the site is currently in use.
Further Information
Full planning details can be accessed via the following Dropbox link:-
https://www.dropbox.com/sh/0wddsh90b4ij01n/AABQ5iOQxiwMEaW7NhCGG3yza?dl=0
Alternative sketch proposals are available on request.
---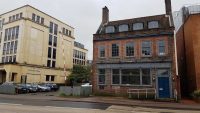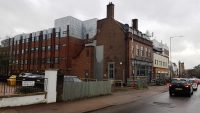 ---
Location
---
---
---